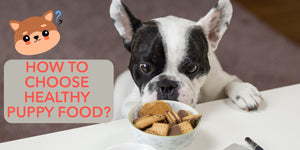 Do you know how to choose healthy puppy food?
For first-time dog owners, adding a new member to the family is an exciting time, but it can also be exhausting. You should know how to feed your puppy. Because a puppy can't stay healthy without careful feeding from its owner. And the biggest problem you face is, what should you give your puppy to eat? Nowadays, there are a variety of different brands in the market, and as an owner you must be very confused about how to choose? This article will give you some advices, please read on! 
Firstly, ask tips for vet

No one knows the health of your puppy better than your vet. If your puppy has other special dietary needs, they will give you detailed advice. You must remember that after you have your puppy, the first thing you should do is take it to the vet. Not only should you know how to take care of this puppy, but you should also ask what you should give it to eat.

You should start learning about dog nutrition, you can easily search online for information on various types of puppy food, learn more about the ingredients of the dog food you buy, how they affect your pet. Look for dog food that provides puppy with the nutrition it needs to avoid bone health problems as it grows, which can be harmful to puppies without adequate nutrition.This is a sense of responsibility you should have as a pet owner.

Secondly, check the ingredients
The ingredients in puppy food are critical to the development of puppies. For example, a puppy's nervous system depends on the essential fatty acid DHA, and puppy food should contain higher levels of DHA than adult food, which will help the growing puppy's eyes, ears and brain to develop better. Studies have shown that feeding puppies with high levels of DHA can improve their memory and training skills. There is a debate as to whether dry hard puppy food or wet is better for puppies, and fortunately the vet has given the answer and it is indeed dry puppy food. This is because it keeps the dog's teeth healthy. But many puppies prefer wet. It is recommended to try to provide dry food to the dog in the first year and once his teeth become strong, then you can consider switching to wet if he likes it.


One way to tell good puppy food or bad is to read the label on the package. It sounds like it's easy, but in reality, the label is hard to read, not only because the words on it are small, but also because it's awkward to handle large bags of dog food in the store. As the Merck Veterinary Manual Association explains, the U.S. Food and Drug Administration (FDA) requires eight key pieces of information on dog food labels, and each state may have its own labeling requirements as well:

- Product name
- Net weight of the product
- Name and address of the manufacturer
- Guaranteed analysis
- List of ingredients
- Intended animal species (i.e. dog or cat)
- Statement of nutritional adequacy
- Feeding guidelines
Thirdly, be mindful of calories


Puppy food should be higher in calories than adult food to compensate for the energy consumed by growing puppies. About half of the calories they consume are used for tissue growth and development. It is important that the food they eat provides enough nutrients to help them develop properly.
Be aware that the size of the food should be chosen based on the size of the dog. It is dangerous if a puppy eats very large pieces. A diet designed for the size of the puppy is also important when it comes to the actual size of the puppy food.


Fourthly, s

ee if the puppy likes it

 

It may take a few days or weeks for puppy to get used to the food. You should make sure your puppy likes it. If it seems like it doesn't like the taste of a particular type or brand of food, it may not be eating enough and won't get enough nutrition. Give it some time, and if this pattern continues, it is time to shift. Most vets agree that changing your dog's food and introducing new brands is a slow process that takes time, so be patient. If after 1-2 weeks, your dog is still hesitant to eat the food, give him something else.

 
Finally, monitor your puppy's health

Puppies are considered to be very active and adventurous, so if he is always lacking enthusiasm and always lying on the floor, something may be wrong. It could be food or other health issues. What you need to pay attention to is: the puppy should have bright eyes and a soft, healthy and shiny coat; the nose must be wet. If your puppy doesn't look good after you switch from one brand of puppy food to another, you may not be choosing your pet's favorite dog food and it's time to adjust. However, before you do this, it is recommended that you call your vet. It doesn't have to be because of the food, there could be other underlying health issues and going to the vet is the most direct and effective way.
---