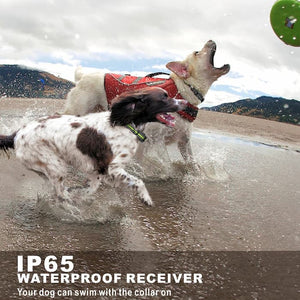 Improve the Battery Performance of Dog Training Collar
If you own a dog training collar, you likely rely on it to help you effectively train and communicate with your furry friend. However, one of the most frustrating things about these devices is when the battery runs low or dies completely. Not only does this disrupt your training sessions, but it can also be inconvenient and potentially dangerous if you are relying on the collar for things like boundary training or remote control during a walk.
Fortunately, there are steps you can take to improve the battery performance of your dog training collar and extend its lifespan. Here are some tips to follow:

Charge the collar regularly and fully. One of the simplest ways to improve battery performance is to make sure the collar is charged regularly and fully. This means charging it up to 100% before each training session and never letting it run completely out of battery. If you are using a collar with a rechargeable battery, make sure to follow the manufacturer's recommendations for charging, as overcharging can damage the battery and lead to decreased performance.


Use the right type of battery. Different dog training collars require different types of batteries, so it's important to use the right one for your specific device. Make sure to follow the manufacturer's recommendations for the type of battery to use, as using the wrong type can damage the collar or lead to decreased performance.
Keep the collar clean. Dust and dirt can accumulate on the collar and lead to decreased battery performance. To keep your collar in top condition, make sure to clean it regularly with a dry cloth or slightly damp cloth if necessary. Avoid using any harsh cleaners or chemicals on the collar, as these can damage the device or the battery.


Use the collar efficiently. To get the most out of your battery, make sure to use the collar efficiently. This means only using the necessary features and not overusing the collar. For example, if you are using the collar for boundary training, turn off the collar when you are not using it and only turn it on when you need it.


Replace the battery when necessary. Even with proper care and use, the battery in your dog training collar will eventually need to be replaced. When you notice that the battery is not lasting as long as it used to or is not performing as well, it may be time to replace it. Make sure to follow the manufacturer's recommendations for battery replacement and always use a high-quality battery to ensure the best performance.
This Funnipets Training collar for dogs with a remote has a 1+ 3 channel design and memory function for settings, which means you can train 3 dogs at the same time without resetting it.
The receiver of the electric shock dog collar is ip65 waterproof dog shock collar. Your dog can swim or bathe freely with the collar on.but please make sure the charging port is closed when the receiver is immersed in water.

By following these tips, you can improve the battery performance of your dog training collar and extend its lifespan. This will not only make your training sessions more effective, but it will also save you time and money in the long run. So make sure to keep these tips in mind and give your collar the care it needs to perform at its best.
---