Why My Dog Needs This Dog Shock Collar?
Whether you want to correct excessive barking or aggressive leash pulling, or you just want to add security to off-leash walking, FunniPets® Remote Shock Collar for Dog helps you to control your best friend from up to 875 yards away.
It offers 3 training modes including shock, vibration, and tone, with 1-99 adjustable levels of vibration and shock, so you can fine-tune the correction level to achieve positive results with any pup.
Model Series: TrainerPro
[TrainerPro] dog training collar is an upgraded version of [FunTrainer], which has been further strengthened in terms of appearance design, waterproof performance, and durability. It is a useful training tool to help correct barking, walking, leash training, sitting, aggression, and other behavioral obedience. Very safe and easy to use.
Key Benefits
Quickly and effectively train up to dog from up to 875 yards away

Built-in LED light and

 reflective straps 

for training in the dark

Helps correct barking, wandering off, aggressive leash pulling, approaching strangers, and more; safe for use on all dogs 10 pounds and larger

The device is rechargeable, waterproof, and includes a power-saving movement sensor

The innovative removable contact points are made of conductive rubber to prevent skin irritation

3 training modes including shock, vibration, and tone, with 1-99 adjustable levels of vibration and shock
What's in the Box
Transmitter x 1
Receiver

 x 3

Nylon Fabric Band

 x 3

Charging Cable x 1
Test Bulb

 x 1

Metal Shock Head x 6

Contact Points x 8

User manual (dog training guidance included)

 x 1
Worry-free Shopping
We offer a 30-day guarantee on our products and our staff will be more than happy to assist you with any issues you may have. Our dedicated staff offer customer support 24 Hours a Day, 7 Days a week. 100% Customer Satisfaction Guaranteed! Please contact us if you need assistance. For more detailed information, please refer to our Return Policy.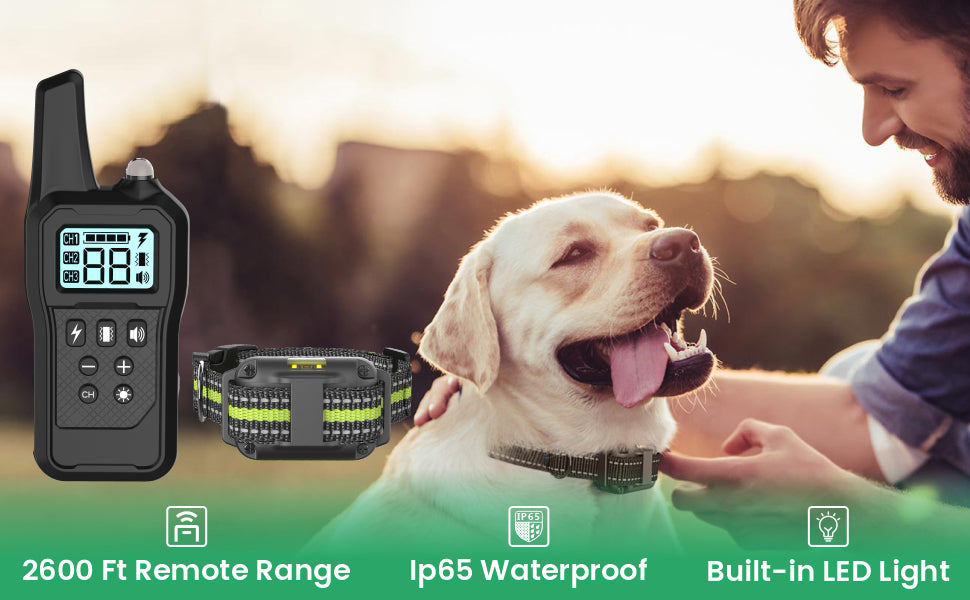 Related Videos
FunniPets's Guarantee
If you don't have a happy experience, we will make it right for you so that you're 100% satisfied.
There's absolutely zero risk buying from the FunniPets Official Store. Send us an email to support@funnipets.com if you need any assistance.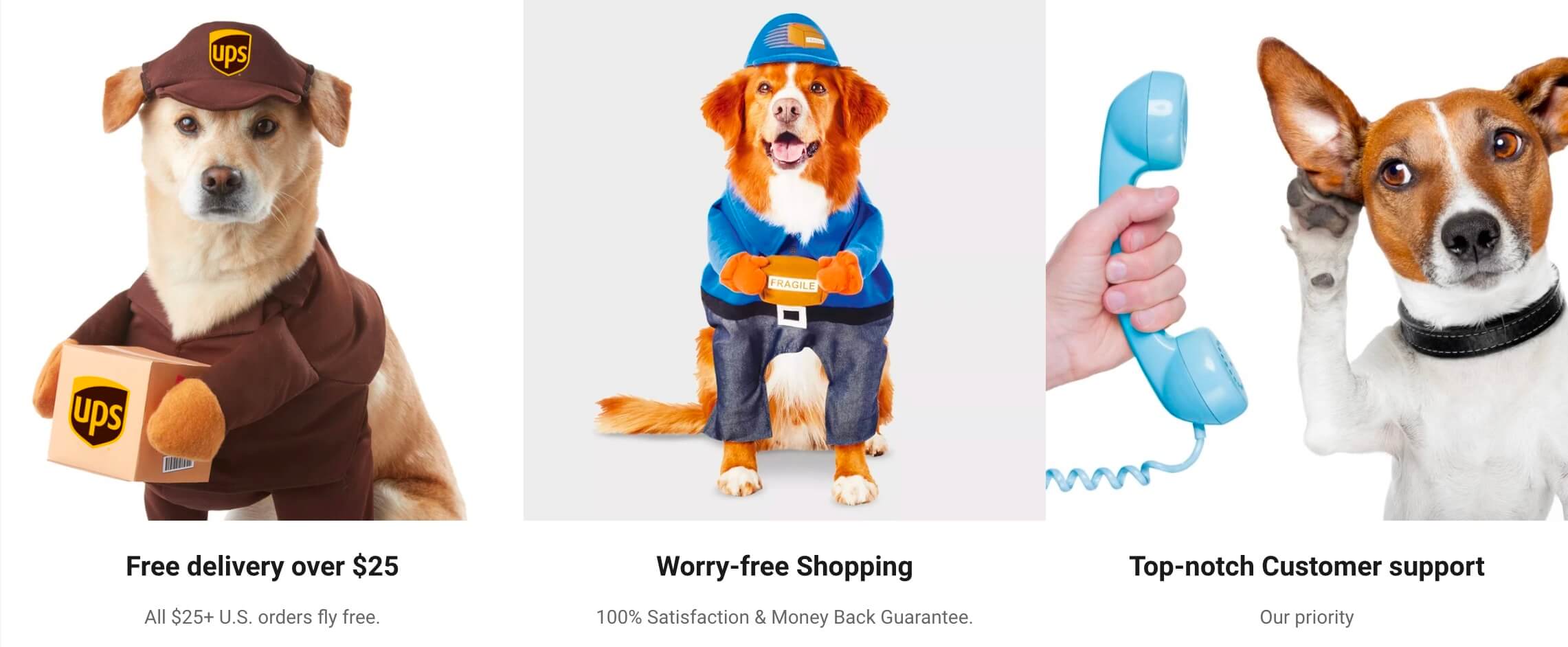 FunniPets 5-Point Happiness Checklist:
U.S. Free Shipping - Free shipping for orders over $25 in the United States.
100% Safe Payments - Make secure payments via PayPal® or your credit/debit card.
30 Day Money Back Guarantee - If you're not satisfied with our products, we will issue you a full refund, no questions asked!
24/7/365 Support - Get answers to your questions with Facebook Live Chat, Email and our Support Helpdesk.
Track Your Order - Track your order at your convenience & get order update emails.
Shipping
Due to the impact COVID-19, current delivery times are running considerably longer than usual on all orders.
All $35+ U.S. orders fly free.
All orders are processed within 2 to 3 business days (excluding weekends and holidays) after receiving your order confirmation email. You will receive another notification when your order has shipped. You will receive notification of any delay or cancellation of your order.
We don't offer international shipping currently, any order outside of the United States cannot be made.
Click here for more information on our shipping policies
Refund Policy
Orders can only be accepted if they make the following requirements:
Items are faulty – damaged/broken or soiled upon arrival

Items are of incorrect size/color delivered

Receipt of a wrong item
If you want to return your package, please click here to find out more on our return policy. 
What things should I consider when buying a dog trainer?
Signaling Modes - It is significant to choose a shock collar having 2 or 3 modes. Light, beep, and vibration are the different signaling modes integrated into the device.
Effective Ranges - If you have a yard or larger area, then you will require a remote with maximum range. In this case, you won't be able to keep an eye on your dog all the time. If you have a smaller area and your dog is in the line of your sight all the time, then there is no need to buy a larger range.
Levels of Shock - A device can have hundred levels of static shock. To avoid being cruel, keep the device on a low stimulation level to train your dog. You can increase the level slightly if it isn't working on your dog.
Waterproofing - Mostly, dogs just love water and will never skip the opportunity to play in it. You have to make sure while buying a dog shock collar if it has a waterproof feature or not.
How long can a dog wear a shock collar?
Please avoid leaving the collar on the dog for more than 8 hours per day, and please try to re-position the collar on the pet's neck every 1 to 2 hours.
A dog CAN wear a shock collar indefinitely if it is not active. However, dogs SHOULD only wear electric dog collars when the trainer or owner is present and in control of the device. This is because if the collar should malfunction when the trainer is not around to remove it or switch it off it has the potential to cause serious harm which could have lasting effects. You should only use the shock collar during training sessions or when it is necessary – not as a permanent accessory.
Can I use a shock collar on my puppy?
It is not recommended that you use a shock collar on dogs younger than 6 months, as dogs below this age are going through crucial development stages both in growth and personality establishment. Preferably a shock collar should be completely avoided with young dogs unless being used carefully alongside other, gentler training techniques such as positive reinforcement.
Is it cruel to use a shock collar on a dog?
It is safe to use a shock collar on dogs if used properly without harming your dog. Make sure the collar that you are using is safe and only intended to train your dog for its bad behaviors.
Do vets recommend shock collars?
Yes, vets recommend shock collars to train dogs for their bad and aggressive behaviors. They recommend using a "shock" feature for emergency situations only while the level of stimulation must be set on low frequency. Other features such as light, beep, or vibrations are also great when it comes to training your dog.
Do shock collars work for barking?
This works perfectly well for excessive barking especially if your neighbors have been complaining. The E-collar trains your dog to refrain from unwanted and loud protests.
How do shock collars work?
Shock collars are a form of aversive training, originally used in the 1960s to train hunting dogs. Today, shock collars are often used to curb a variety of stubborn and unwanted behaviors in family dogs, from excessive barking to food aggression. They're also used to train puppies to stay safely within a property line or to stick close by while off-leash.
Do shock collars make dogs more aggressive?
A shock collar does not make your dog aggressive if used properly. It helps dog owners administer their dogs' inappropriate behaviors and make them obey verbal commands.
Can shock collars cause brain damage?
Shock collars are intended to be made to train the dogs for unwanted barking or aggressive behavior. These are safe to train your dog and do not cause brain damage. It is recommended to apply low stimulation when your dog is misbehaving. For emergency situations where your dog is about to attack any human or animal, you can increase the level a little bit to stop him.
How can I control my dog's barking?
In order to control your dog's barking, you need to use a consistent training method. There are many options, such as positive reinforcement training, which rewards your furbaby for those behaviors you'd like to see. There are also deterrent devices such as bark collars and dog training collars that use corrective stimuli to discourage bad behavior. It is common for people to use a variety of methods for training.
What is the best method of dog bark control?
The best method of dog bark control is different for each puppy, so it is important to consider his/her personality. Remote training collars are effective for managing behaviors such as barking.
Do anti-barking devices really work?
Anti-barking devices work well when you choose the right one for your pal and train in a consistent manner. Some friends need a small reminder, while others may need a more pronounced correction. Positive reinforcement and a healthy lifestyle are also important factors. To help you decide which product is right for your pup, check with your veterinarian and read some of our product reviews to see what other doggy parents have to say!
The Shock Collar Tips and Advice
Start with teaching your dog with some basic commands without the training collar such as "sit", "stay".
Please do keep in mind that, no matter what training method or tools you decide to use, the intended purpose is to help your dog, whether it's to stop him from barking unnecessarily or to keep him from harm's way. This applies when using a shock collar or any training collar.
Pay attention to the size of the collars. It can be trimmed or adjusted to custom fit your dog's neck within a certain measurement range. If the hair is too long at the dog's neck, it may cause the receiver not to be able to fully contact the skin. It is recommended to properly trim the hair.
Consider how many dogs you will want to train simultaneously. FunniPets training collars can control multiple shock collars on up to three dogs.
While you can test the jolt level on yourself, do not place them around your neck and shock yourself or your friends. This is dangerous. Please test it on the test bulb.
When you first start using a shock collar, you want to begin at low levels of vibration and stimulation and work your way up to learn the best setting for alerting and training your dog without causing anxiety or discomfort.
Please do not used for training puppies younger than 6 months. Recommended for medium and large dogs above 20 lbs.
We suggest using vibration/tone/light mode to train your dog. Shock mode should always be the last mode to use.
Please avoid leaving the collar on the dog for more than 8 hours per day, and please try to re-position the collar on your pups neck every 1 to 2 hours.
Read directions and warnings carefully, because the shock collars do have powerful shock settings at the higher levels and using them incorrectly can be counterproductive in training and changing your dog's behavior.
Easy to use
Easy to use. Can get the dogs attention quickly and having three units gives the ability to have a spare
Highly recommend
I was worried about my dogs being hurt by the shock. They were actually only shocked once. Now, as soon as they hear the beep, they do as they are asked. VERY pleased.
This is very easy to use and the battery life is great! Highly recommend.
Need replacement parts
I've noticed that when i tried to beep my dog it didnt respond until after i pressed the power button. This has been annoying.
Overall pleased
These have worked well in training mydogs. However they were able to tear the collors eventually and break the plastic in one area. So not sturdy enough for my playful labs
Training collars
Just got them, charged, and made them ready.
Can get back after some use.
Good for your money
Second time I have bought these. Great collars and inexpensive. Only had to buy them again because the first one got chewed! Dogs listen well to the beep and if they are around one another and you beep one they all think it's for them so they all listen! We have a 2 year old 1 year old and 12 week old. Highly recommend!
Works great
Great deal for the price. Have had them for just about a year now and they still work perfect
Seem to work
They are doing what they say they'll do.
These are perfect .We have three German shepherds and I can walk all three no leashes .
We love these collars no problem @all.
Stimulation is NOT Shock!
My Miniature Dachshunds are barkers and stubborn.
After 10 Minutes of training, it's amazing the difference.
I don't feel like the bad parent. I wish the remote had some rubber bumpers.
Easy to operate and work well on a 10 to 14 lb. dogs.
Shock is not what the collars are: Stimulation is what Chiropractors use on people.