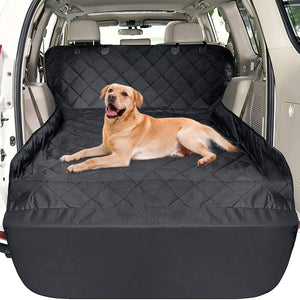 How to Choose Cargo Liners for Your Car?
SUV cargo liners are a great addition to any SUV owner's accessory arsenal. They protect the cargo area of your vehicle from spills, dirt, and wear and tear, while also adding a layer of organization to your trunk space. Choosing the right cargo liner for your SUV can be a daunting task. In this blog, we will go over some key factors to consider when selecting a cargo liner for your SUV.
Material: The material of the SUV cargo liner is an important factor to consider, as it will determine how well the liner will hold up over time. Some common materials for cargo liners include rubber, carpet, and vinyl. Rubber liners are durable and easy to clean, but they can be heavy and not as comfortable to walk on. Carpet liners are softer and more comfortable to walk on, but they may not be as durable or easy to clean as rubber liners. Vinyl liners are a good balance between the two, offering durability and easy cleaning, but with a softer feel than rubber liners.
Size: Make sure to measure your cargo area before purchasing a cargo liner, as you want to ensure that the liner fits properly. A liner that is too small will not provide adequate protection, while a liner that is too large may not fit properly and could get in the way. Some cargo liners come in multiple sizes to fit different SUV models, so make sure to check the size options before making a purchase. 
Non-slip surface: A non-slip surface is important for keeping your items in place and preventing them from sliding around the cargo area. Look for a cargo liner with a textured or rubberized surface to provide added grip.
Installation and removal: Some cargo liners are designed to be easily installed and removed, while others may require more effort. Consider your needs and how often you plan on removing the liner when making your decision.
Cleaning: Depending on your lifestyle and needs, you may want to consider a cargo liner that is easy to clean. Rubber and vinyl liners are generally easier to clean than carpet liners, as they can be wiped down with a damp cloth or hosed off. Carpet liners may require more effort to clean, as they may need to be vacuumed or steam cleaned.
Funnipets SUV Water Resistant Cargo Liner for Dogs
This SUV cargo liner for dogs measures 55*81 inch, fits to full-size/mid-size /compact SUV, minivan, sedan; 
Water resistant for easy to clean
The Bumper Flap of the pet cargo liner for SUV effectively protects your car against scratches when your dog getting on/off the trunk or lies on the edge of the trunk
Enhanced stitching on trunk cover for longer durability; Quick release buckles of straps and seat anchors for easy installation and stability. 

In conclusion, choosing the right SUV cargo liner for your vehicle involves considering factors such as material, size, custom fit, non-slip surface, ease of installation and removal, cleaning, and price. By taking the time to research and compare your options, you can find the perfect cargo liner to protect and organize your cargo area.
---